The Brooklyn Boy Who Moved West
When I moved to San Francisco in 1979, the only thing I really missed was my favorite pizza. The local 'neighborhood' pizzerias of my childhood back in Brooklyn and Queen made San Francisco's pizza seem pale by comparison. I found Village Pizzeria almost immediately. I believe they combined Brooklyn or 'boroughs' flavor with California fresh and produced a truly great pizza. I felt good about this San Francisco experience. It was a 'score' (to say the least) to find Village Pizzeria on Steiner Street almost immediately. "Pale by comparison" was nicely put to describe the others in town. Fifteen years later, in 1994, I changed careers and purchased a Village Pizzeria on Clement Street in San Francisco. In 1997, while on vacation in Souther California, our family decided to relocate to Hancock Park — and we were able to open Village Pizzeria on Larchmont Boulevard. In February 2008, we opened Village Pizzeria on Yucca Street in Hollywood. California fresh means just that — no additives — fresh. The dough for the pizza crust is prepared daily using fresh yeast and allowed to 'proof' (rise). The resulting shell is a true baker's crust. Village Pizzeria Larchmont and Yucca use the best Wisconsin mozzarella available. To ensure the quality and freshness of the toppings, we make our own sausage, meatballs, marinara sauce, balsamic and Italian dressings, fresh crushed garlic and clam mixture and pesto according to specific 'special' house recipes. We only use fresh cut produce. No microwaves ovens used here!! We've been told this is among the very best pizza anywhere. The proof of the pizza is in the eating. Join us write my paper for me, make yourself comfortable, and enjoy your experience. All we are saying, is give 'a piece' a chance Steve.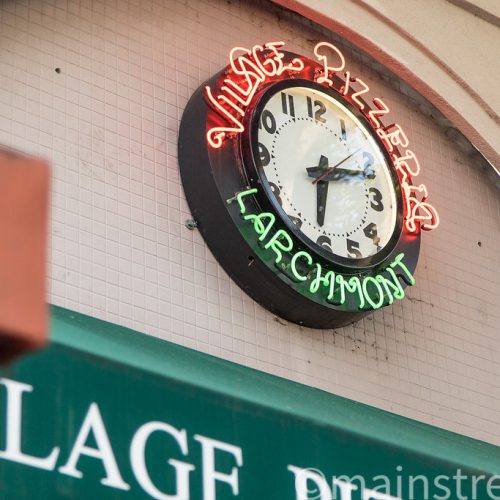 Good to Go Mighty Meatballs
Spaghetti and meatballs is no ordinary dish the way it's prepared at Village Pizzeria. the hefty meatballs (3 1/2 ounces each) combine ground pork and beef chuck. They come two to a serving along with Barilla spaghetti in the restaurant's own marinara sauce. Instead of the usual garlic bread, the order includes a garlic bun that is coiled like a cinnamon roll. it's made from something the restaurant has a lot of - pizza dough. -BARBARA HANSEN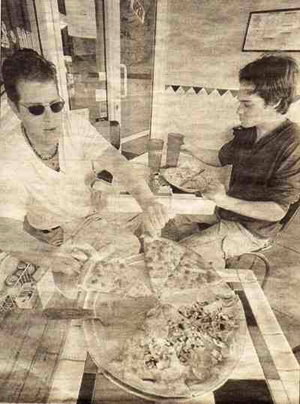 Passionate About Pizza Counter Intelligence By Charles Perry
Village pizzeria is another East Coast roots (this time New York: the walls are thickly crusted with Big Apple memorabilia) in another tough neighborhood for parking, Larchmont Boulevard. This one is more restaurant than takeout place, though. It even has beer and wine. Here you can get your pizza with either a thick or thin crust, and the emphasis is more on the toppings. This place is more experiment-minded with them too. It offers a couple of "veggie" pizzas, and feta cheese often shows up. Still, none of them can really beat Village Pizzeria's devasteing pepperoni pizza. The excellent mozzarella is topped with spicy, aromatic sausage slices cooked down so far they've turned into a sort of pepperoni jerky, so chewy, salty and concentrated it almost hurts the tongue. This is a gorgeously, indefensibly rich pizza, too-the plate positively runs with orange sausage grease, and the waitress is likely to volunteer extra napkins. A couple of simple pasta dishes are available. For instance, chewy meat or mushroom ravioli, baked ziti in a fresh tomato sauce with lots of garlic or penne with chicken and broccoli and even more garlic. No choice of hot or cold submarine sandwiches on the menu here, they're all heated up in the pizza oven, and seem to have been pressed-the effect of the ham sandwich is pretty close to the Cuban pressed sandwich. The sausage pizza, made with homemade sausage and a judicious amount of tomato sauce, is one of the more satisfying around. Larchmont may have its parking shortage, but this place manages to be pretty busy most of the time, proving the old saying: If you build a serious pizza, they will come.